Slotegrator's editorial team met the CEO of Endorphina, Jan Urbanec, to find out more about the business. He shared details about how the company creates and promotes its distinctive slots, as well as his personal opinions on why slots are so eternally appealing.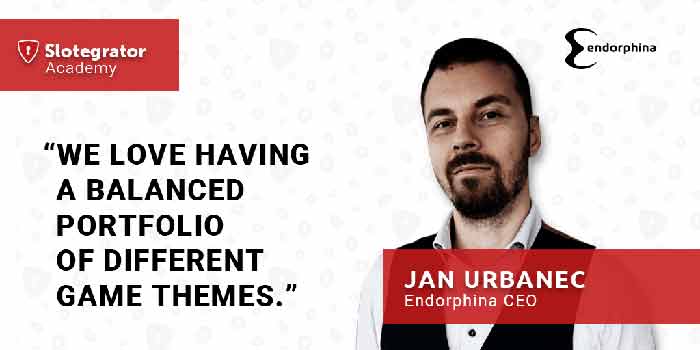 Online slot game developer Endorphina has an expansive portfolio of online slots that range from classic themes to innovative and original new titles. The company's aim is to mix engaging mathematics and mechanics with dazzling art in order to consistently deliver players a gaming experience of the highest quality.
The full interview is available at Slotegrator Academy
While the company has gone through its own learning curve on its road to success, its values have remained the same — players that put in the time are rewarded with a win. By this point, the company is proud of the design decisions they've been making since the beginning, especially the design choices that have since become standards in the industry.
"The core of gambling is the same. People still want to play."
Since the company was founded in 2012, it has witnessed mobile gaming's rise to prominence, as well as the rise and fall of VR gaming. In Urbanec's view, while there are trends to follow in marketing and other areas, the essence of the industry and the mentality of the players are unchanged.
While the company is looking to introduce some table games into its portfolio, as well as adding a gamification project, the essence of Endorphina has always been and always will be creating hit slots. Urbanec predicts that the future will see the company produce games at a level that competitors find it hard to match.
Endorphina's portfolio has both classic and innovative themes. The classic themes are usually based on certain cultures and connected to treasure-hunting or other adventures. Sometimes the company sticks to the perennial classic of fruit. A company favorite is to take a classic theme like Ancient Egypt or Japan and present it in a revamped format while maintaining the charm of the original.
"We love having a balanced portfolio of different game themes."
In Urbanec's view, a good idea is a good idea, no matter where it comes from. Suggestions from anyone inside the company or even from the players themselves are all fair game when exploring new ideas. If the theme matches well with a math model and gameplay, the concept is ready to move forward. The company's classic-themed slots are certainly player favorites, but their innovative and original titles like Twerk, Taboo, and Satoshi's Secret perform just as well.
While some companies stick to a formulaic creative process and churn out identical slots month after month, the release schedule at Endorphina is tied to quality, not quantity, as the company only releases new games when they're ready. The starting point for new slots varies from game to game. It can be a math model, a theme, a mechanic, or something else. After the initial burst of inspiration, the team keeps adding and adapting to the idea — even letting it simmer on the back-burner for a while, if it has to.
"We love to take these themes and deliver them in a modern and revamped format, without taking the magic out of them."
When it comes to creating slots that appeal to both beginning players and high rollers, Urbanec believes that both groups are attracted by the same things: simplicity and clarity of design. In his opinion, slots need great graphics in order to catch the player's eye. Graphics are a deciding factor in a player's decision to try a new game or not. A game needs to be appealing and well-designed from the moment the player first sees the icon and clicks through to the splash screen. Players will instantly know if they're interested or not, so the game needs to look great from the get-go.
"We are known for coming up with very innovative ideas and industry firsts."
It's also important to strike a balance between popular features and innovative new ones. Companies that stick to the popular features will soon be outdone by those that innovate. However, companies that put too much focus on adding new features to every slot run the risk of alienating players who feel like they don't understand the game mechanics.
According to Urbanec, players are always looking for good games to play. When it comes to promoting slots, companies must provide high-quality, personalized service and deploy a talented marketing department to constantly promote the games.
"Content is king."
One promotional tool that Endorphina uses is a bonus money and free spins solution that gives operators a large amount of control over how it distributes award money to players. Another effective promotional tool is the use of tournaments, which can bring a lot of attention to a casino. However, in Endorphina's view, as effective as tournaments are when it comes to attracting new players and impacting the casino's bottom line, once the market becomes flooded with them, players will become highly selective and demand innovation.
"Our marketing department does a great job of relentlessly promoting new releases."
Urbanec feels that participation in B2B events can help promote a developer's products, as the industry's insights will reach the audience regardless. Most players are not particularly interested in the details of industry events themselves, but will learn about new developments though indirect channels like forums, affiliate websites, review websites, and streamers.
Urbanec also gave us a few of his personal opinions. In Urbanec's view, a slot's name does have something to do with its popularity, and names should be kept short and catchy, so that players can talk about the games. However, even the wittiest and most SEO-friendly slot name in the world won't compensate for boring gameplay.
"Players have to choose the games."
The perfect slot, to Urbanec, has high volatility math, an unlimited maximum bet, and an operator that can handle big wins. His personal favorite is one of the company's hidden gems, a game called Durga. The game's art, sound effects, and lighting have an instant appeal, and experienced players will appreciate the subtlety of the game mechanics.
In Urbanec's opinion, the popularity of slots is due to their high entertainment value and low level of responsibility. Players only decide how much to bet, and the rest is left up to luck. VR games, on the other hand, are a long way off, as the technology is still too bulky and inconvenient.
The original article with Urbanec's answers is available at Slotegrator Academy, a free resource for iGaming industry that provides insights like news, stories and interviews with industry leaders, market overviews, infographics and other analytical content.
Share via social media
Do you like the article?
Join our Telegram channel
Attention!
Check the information used to contact us carefully. It is necessary for your safety.
Fraudsters can use contacts that look like ours to scam customers. Therefore, we ask you to enter only the addresses that are indicated on our official website.
Be careful! Our team is not responsible for the activities of persons using similar contact details.